COAST GUARD VETERANS AND ASBESTOS
Veterans of the Coast Guard were put at risk of asbestos exposure during active duty. Most ships used by the Coast Guard during the 1930s to the 1970s were constructed using asbestos-containing materials.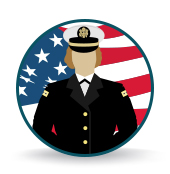 Coast Guard veterans experienced the same risk of asbestos exposure as Navy Veterans. Like Navy veterans, they served in ships constructed using large amounts of asbestos-containing materials. Exposure to asbestos substantially heightened the risk of Coast guardsmen developing mesothelioma, a rare cancer.
Coast guardsmen who have been diagnosed with service-related mesothelioma can gain access to benefits provided through the VA. Filing for disability benefits claims through the VA can help Coast guard veterans get treatment for their service-related mesothelioma.
Asbestos in the Coast Guard
The majority of asbestos exposure endured by Coast Guard veterans occurred on ships and in shipyards. The versatile, fire-resistant mineral was used to insulate almost every part of every ship produced from WWII to the Vietnam War. Asbestos containing materials could be found anywhere from the boiler room to the insulation in a ship's sleeping quarters.
The military valued asbestos because it protected the Coast Guard's fleet from fire at sea, a considerable wartime concern. This concern grew as the U.S. entered WWII and the demand for ships increased. As more ships were constructed to meet the demand produced by the war effort, more ships with asbestos-containing materials were produced, further increasing the exposure of Coast guardsmen to asbestos.
Coast Guard veterans spent extended periods of time in the cramped, poorly ventilated quarters of ships constructed with asbestos. They also came into contact with microscopic asbestos fibers in shipyards, where ships containing asbestos were produced and demolished.
Coast guard veterans with service-related mesothelioma are entitled to disability compensation and benefits offered through the VA.
At Risk Coast Guard Veterans
The most at risk occupation connected with Coast Guard service were shipyard workers. Coast guardsmen would often work or be stationed at shipyards where vessels were constructed and demolished. The constant demolition and renovation of ships released asbestos fibers into the air, increasing asbestos exposure and the risk of Coast guardsman developing mesothelioma.
The VA recognizes the substantial risk asbestos posed to shipyard workers:
High exposure to asbestos and a high prevalence of disease have been noted in insulation and shipyard workers
Older ships also posed a threat to Coast guardsmen, especially those serving in the Korean War and Vietnam War. As vessels from WWII were reused, the asbestos inside the ships became brittle and released microscopic fibers that could be inhaled by servicemen and women.
Discover How You Can Beat The Odds
Get your free mesothelioma guide and learn about your treatment options.
Get My Free Guide
Coast Guard and Asbestos Exposure
Any ship constructed before the 1980s was made with some form of asbestos-containing material. Asbestos could be found anywhere fire damage posed a serious threat to the integrity of the ship and its servicemen.The most common locations of asbestos on Coast Guard ships include:
Boiler, navigation and engine rooms
Mess halls
Sleeping quarters
Flooring
Lining of valves, gaskets and electrical cables
Pumps, condensers, compressors and motors
Thermal insulation
Shipyards were also a center for asbestos exposure. A recent study on workers employed at Coast Guard shipyards from 1950 to 1964 reported that exposure to asbestos was widespread in shipyards and strongly linked to increased incidences of mesothelioma
Next Steps for Veterans
Veterans of the U.S. Coast Guard were unknowingly put at risk of asbestos exposure during the 1930s to the 1970s. US Coast guardsmen diagnosed with service-connected mesothelioma are entitled to benefits and disability compensation through the VA.
Our Veterans Help Team assists veterans in preparing and submitting the paperwork necessary to be approved for benefits that can pay for treatment. If you're a veteran who has been diagnosed with service-connected mesothelioma, contact a member of our Veterans Help Team for more information on filing a claim with the VA.