Exposure to asbestos is the only known cause of mesothelioma. Inhaling or ingesting asbestos causes these microscopic fibers to get lodged in the lining of the chest or abdomen. Over time, the fibers cause tumor development because the body is incapable of expelling the fibers.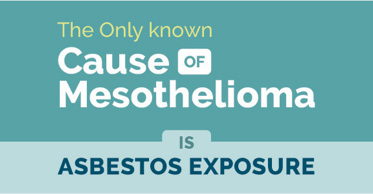 Asbestos is a naturally occurring mineral used for centuries in products ranging from textiles to insulation. Asbestos usage increased throughout the world in the first half of the 20th century and peaked in the United States during the 1970's. Asbestos continued to be used in a wide variety of industries in the 1980's and later. To date, roughly 30 million tons have been used in the United States alone.
There are several ways people are exposed to asbestos.
Types of Asbestos Exposure
Occupational: Some people were directly exposed to asbestos at their jobs or from performing tasks such as home or car repairs. Asbestos products were widely used in construction and industrial trades. This is called first-hand exposure.
Secondhand: Other people were exposed to asbestos found on the clothes, skin or hair of someone working with or near the mineral. This is known as secondhand exposure.
Environmental: As a mineral, asbestos can be found in nature. Traditionally, asbestos mines that operated in the past released fibers into the air.