ARMY VETERANS AND ASBESTOS
Veterans of the U.S. Army who served between the 1930s and the 1970s were exposed to asbestos. Army veterans who have developed mesothelioma from asbestos exposure during active duty qualify for VA benefits.
Asbestos Use in the Army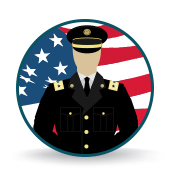 Like every branch of the military from WWII to the mid 1970s, the Army used asbestos extensively as a construction material. The cancer-causing mineral was often used to build bases, barracks and lined several parts of operational vehicles.
Learn more about the connection between asbestos and mesothelioma in our free guide.
At Risk Army Veterans
There are several specific Army occupations that ran a higher risk of asbestos exposure. These occupations include:
Miners
Millers
Pipefitters
Insulation workers
Shipyard workers
Carpenters
Construction and demolitions
Floorers and roofers
Discover How You Can Beat The Odds
Get your free mesothelioma guide and learn about your treatment options.
Get My Free Guide
Where the Army Used Asbestos
The Army used asbestos-containing materials in sleeping areas, mess halls and throughout bases. The versatile material could be found in cement foundations, caulking used to seal joints and seams, in flooring and as insulation in the plumbing system. Specific Army buildings and equipment in which asbestos-containing materials can be found include:
Brake pads and clutch plates in vehicles
Barracks
Mess halls
Bases and nearby residential areas
During the 1990s the Army carried out a program whose goal was to clean up 40 closed or realigned installations. Asbestos was recognized as a major contaminant in all of these installations. The projected cost of cleaning up large amounts of asbestos in 32 of these bases amounted to one billion dollars over 5 years. In a report delivered in 2002, the U.S. General Accounting Office (GAO) named two major Army sites still containing deteriorating asbestos-containing infrastructure: Fort Jackson and Fort Knox.
Asbestos was also identified as a dangerous contaminant in a number of the Army's other clean up plans. One of these plans noted that seven of the buildings at the world-renowned Walter Reed Army Medical Center contained buildings constructed with the asbestos. The Army even considered building an asbestos disposal plant in Maryland, where it would process 4 million pounds of asbestos from bases and installations from New York to Virginia into harmless dust. The disposal program was, however, canceled due to the high cost (5 million dollars) of converting such large amounts of the dangerous mineral.
Next Steps for Army Veterans
Army veterans were exposed to dangerous amounts of asbestos from the 1930s to the 1970s.Veterans who served in the Army during this period of time are encouraged to seek medical attention from a qualified mesothelioma specialist. Only a specialist can accurately diagnose the rare disease and determine if an Army veteran needs further treatment.
The VA recognizes that asbestos causes mesothelioma and allows veterans to file claims for financial assistance. If you're an Army veteran who has been diagnosed with service-related mesothelioma, our Veterans Help Team is here to help you file a VA claim and get approved for benefits that can help pay for treatment. Contact a member of our Veterans Help Team for more information on filing a claim.