Survival rates are another way to express the average cancer patient's survival time with recent statistics. Because mesothelioma is so rare, survival rates for the disease tend to be much lower than other types of cancer. Yet, mesothelioma survival rates are improving with the development of novel therapies.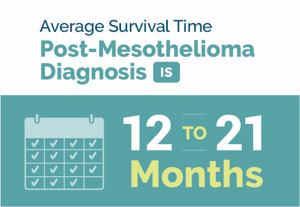 Some patients choose to ignore survival rates because the rates only give an idea of an individual's prognosis. If you feel the same, talk to someone from our Patient Help Team who can help you explore ways to improve your prognosis.
Things to keep in mind when considering survival rates are:
They might not be indicative of your diagnosis. Survival rates are averages based on the combined experiences of large numbers of mesothelioma patients in the past. This means patients who refused treatment or had worst case scenarios drag the average survival rate down.

They are just a guideline. Doctors use these statistics as a tool or a guideline to develop a treatment plan. They also use them to explain a patient's prognosis and how the disease might affect their quality of life in the future. Survival rates don't take into account an individual's diagnosis.

They aren't set in stone. Survival rates can change as both new and standard mesothelioma treatments are developed in clinical trials.
A survival rate refers to the percentage of people who survive their diagnosis after a certain amount of time. Mesothelioma survival rates are expressed as a percentage of patients who survive their diagnosis after a certain interval of time (usually 1, 2 or 5 years).
Five-year survival rates are the most common ways to express rates of survival in cancer patients.
The 5-year survival rate for mesothelioma is between 5 and 10 percent, meaning that 5-10 percent of patients diagnosed with mesothelioma live at least 5 years.
Looking at survival rates can give patients and families a bigger picture. It's important to remember that these rates are only a piece of the picture. Only a mesothelioma specialist can give you a truly accurate idea of your prognosis. Some patients who exploit all possible treatment options often have 5-year survival rates closer to 30 percent.