Global Asbestos Trade Still Growing

Most people believe that asbestos use is banned in just about every country on the planet. It's not. There are more than 250 countries, territories, colonies, and dependencies around the world and just 59 have bans on all types of asbestos. The U.S. isn't one of them, and neither are Canada, Russia, India, Brazil, Mexico, China, and many developing countries. In fact, India, the world's biggest asbestos importer, has a $2 billion industry with double-digit annual growth, at least 100 manufacturing plants, and some 300,000 jobs. And in Russia, the asbestos industry is "booming," accounting for a staggering 1.1 million tons produced annually of the roughly two million tons produced worldwide each year.
Asbestos production in Russia has increased from 1 million tons in 2010. China, the second largest producer of asbestos, produced 400,000 tons in 2016 and in 2010, and Brazil produced 300,000 tons up from 270,000 in 2010.
Though two million tons produced annually is far less than peak annual production of nearly five million tons two decades ago, it still has the potential to claim tens of thousands of lives in the near future to even decades from now. Remember, it can take anywhere from 20 to 50 years for mesothelioma to develop after exposure and even small amounts can lead to disease.
According to the World Health Organization (WHO), currently about 125 million people in the world are exposed to asbestos in the workplace. In 2004 alone, asbestos-related lung cancer, mesothelioma, and asbestosis from occupational exposures resulted in 107,000 deaths and 1,523,000 Disability Adjusted Life Years (DALYs). In addition, thousands of deaths can be attributed to other asbestos-related diseases, as well as to non-occupational exposures to asbestos.
The organization also reports that as many as 43,000 people worldwide die from asbestos-related disease each year, with around 10,000 new mesothelioma cases reported annually in Australia, Japan, North America, and Western Europe combined. In the U.S., where certain asbestos-containing products and uses have been banned, the Centers for Disease Control and Prevention (CDC) reports that during 1999–2015, a total of 45,221 malignant mesothelioma deaths were reported, increasing from 2,479 (1999) to 2,597 (2015). Says the CDC, "continuing occurrence of malignant mesothelioma deaths in persons aged <55 years suggests ongoing inhalation exposure to asbestos fibers and possibly other causative elongate mineral particles (EMPs)."
So far, it looks like partial bans on asbestos just aren't enough to stop the thousands of mesothelioma deaths each year in the U.S. and around the world. Says WHO, the most efficient way to eliminate asbestos-related diseases is to:
Stop the use of all types of asbestos.
Replace asbestos with safer substitutes and develop economic and technological mechanisms to stimulate its replacement.
Take measures to prevent exposure to asbestos in place and during asbestos removal (abatement).
Improve early diagnosis, treatment, social and medical rehabilitation of asbestos-related diseases and establishing registries of people with past and/or current exposures to asbestos.
In the end, profit should never take priority over people. "All forms of asbestos pose grave dangers to human health," writes Drs. Arthur L. Frank and T.K. Joshi, authors of The Global Spread of Asbestos. "There is no continued justification" for the use of these proven human carcinogens. The production and use of asbestos "should be banned worldwide."
For now, the countries listed below have bans on the use of
all types

of asbestos: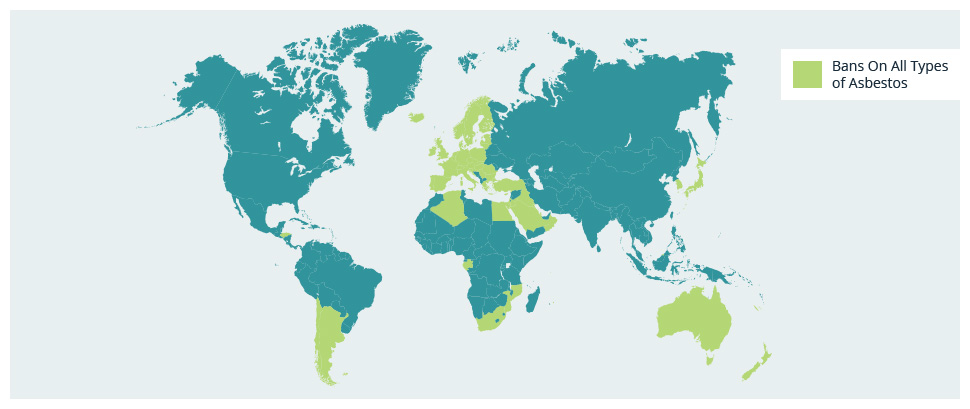 Algeria
Argentina
Australia
Austria
Bahrain
Belgium
Brunei
Bulgaria
Chile
Croatia
Cyprus
Czech Republic
Denmark
Egypt
Estonia
Finland
France
Gabon
Germany
Gibraltar
Greece
Honduras
Hungary
Iceland
Iraq
Ireland
Israel
Italy
Japan
Jordan
Kuwait
Latvia
Lithuania
Luxembourg
Malta
Mauritius
Mozambique
Netherlands
New Caledonia
New Zealand
Norway
Oman
Poland
Portugal
Qatar
Romania
Saudi Arabia
Serbia
Seychelles
Slovakia
Slovenia
South Africa
South Korea
Spain
Sweden
Switzerland
Turkey
UK
Uruguay
Under the Toxic Substances Control Act (TSCA), in the U.S.:
The manufacture, importation, processing and distribution of asbestos-containing corrugated paper, rollboard, commercial paper, specialty paper, and flooring felt have been banned.
Under the Clean Air Act (CAA), banned asbestos-containing uses include:
Asbestos pipe insulation and asbestos block insulation on facility components, such as boilers and hot water tanks, if the materials are either pre-formed (molded) and friable or wet-applied and friable after drying.
Spray-applied surfacing asbestos-containing materials: spray-on application of materials containing more than 1% asbestos to buildings, structures, pipes, and conduits unless certain conditions specified under 40 CFR 61, Subpart M are met.
Under the Consumer Product Safety Act (Consumer Product Safety Commission), banned Products include:
Asbestos in artificial fireplace embers and wall patching compounds.
The manufacture, importation, processing and distribution in commerce of the following products, as well as some others not listed, are not banned:
Automatic transmission components
Brake blocks
Cement corrugated sheet
Cement flat sheet
Cement pipe
Cement shingle
Clothing
Clutch facings
Disk brake pads
Drum brake linings
Friction materials
Gaskets
Millboard
Non-roofing coatings
Pipeline wrap
Roof coatings
Roofing felt
Vinyl floor tile
If you think you may have been exposed to asbestos, see your doctor right away. Though there is no cure for mesothelioma, early detection could increase treatment options and help you live longer.
Sources
"Asbestos." International Programme on Chemical Safety. World Health Organization (WHO), 2017. Web. 18 Sept. 2017.
"Asbestos Still Pushed in India and Business Is Booming." CNBC Asia-Pacific News. CNBC LLC., 13 Aug. 2014. Web. 18 Sept. 2017.
"Bulletin of the World Health Organization." WHO. World Health Organization (WHO), 13 June 2011. Web. 24 Mar. 2017
"Countries of the World." Fact Monster. Sandbox Networks, Inc., Publishing as Fact Monster, 2000-2017. Web. 24 Mar. 2017
Frank, Arthur L., and T.K. Joshi. "The Global Spread of Asbestos, 2014." Annals of Global Health 80.4 (2014): 257-62. Elsevier. Web. 18 Sept. 2017.
Kazan-Allen, Laurie. "Current Asbestos Bans and Restrictions." International Ban Asbestos Secretariat. IBAS, 18 Feb. 2017. Web. 24 Mar. 2017.
"Major Countries in Worldwide Asbestos Mine Production Top Countries Worldwide 2010-2016." Statista. Statista Inc., 2016. Web. 18 Sept. 2017.
"Morbidity and Mortality Weekly Report (MMWR)." Centers for Disease Control and Prevention (CDC). Centers for Disease Control and Prevention (CDC), 02 Mar. 2017. Web. 24 Mar. 2017.
"U.S. Federal Bans on Asbestos." Environmental Protection Agency (EPA). United States Environmental Protection Agency (EPA), 19 Dec. 2016. Web. 18 Sept. 2017.